WE plan ahead – for promising future projects
WE help clients to solve their tasks with suitable measures. And we put the highest emphasis on the word SUITABLE. Although our qualifications as well our experience are based on state of the art technologies, we always question the suitability of measures.
WE are very much aware that high-tech does not necessarily have to be the most suitable answer to a problem. Consequently we focus activities on the best possible solution for the purpose. Under consideration of the tech­no­logical side of a project as well as its over­all lifecycle cost – for the benefit of our clients.

WE provide – General services
WE are a consultancy and engineering company. We operate independently and have no economic commitments to other companies nor do we represent the interests of manufacturers or suppliers.
In this respect we cover the full range of classical consultancy and engineering services such as:
Pre-feasibility studies
Master planning
Feasibility studies
Application of funding responsable financing
Preliminary design
Final design
Detailed design
Elaboration of tender documents
Client support in tendering
Evaluation of offers
Client support in awarding contracts
General supervision
Construction supervision
Assistance in final acceptance procedures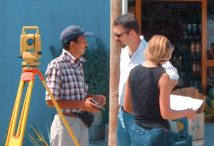 WE offer – Special services
WE do not stop thinking when the classical engineering and consultancy work is done. The success of a project in the environmental
sector strongly depends on the quality of its ongoing management and operation.
So WE see it as our duty also to support our clients with special services like:
Project management
Institutional development
Commissioning and operation
Software development in co-operation with 3SConsult